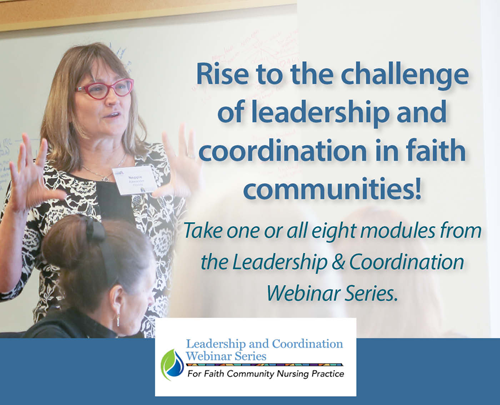 By completing the eight modules of the Leadership and Coordination Webinar Series, successful participants will earn the FCN Coordinator Certificate.
Upon completion of this series, participants will:
Receive the FCN Coordinator Certificate
Receive the FCN Coordinator Pin
Be listed as a Westberg Affiliated FCN Coordinator

After completing the eight core modules of the Leadership and Coordination for Faith Community Nurse Practice Series, participants will:
Integrate the knowledge gained into a basic development plan following best-practice standard.
Demonstrate competence through completion of various content specific activities.
Achieve a certificate of completion and recognition as a Westberg Institute affiliated Coordinator.
Participate in the international community of FCN leaders and coordinators to share insight and support for continued practice development.
Impact the specialty practice through guiding and directing FCNs, presenting the benefits of the practice to non-nurse leaders, and promoting sustainability through partnerships, revenue streams, and funding sources.
What is an FCN Coordinator?
A Faith Community Nurse Coordinator, also known as a manager, leader, supervisor or other customized title, oversees, educates, and supports practicing faith community nurses in a network or organizational setting. Coordinators are responsible for organizing, planning, and sustaining the viability of the health ministry. This requires additional education, knowledge, and skills.
RNs that complete all eight modules in the series and return an evaluation for each are eligible to receive a certificate of recognition as a Westberg Institute affiliated FCN Coordinator along with an FCN coordinator pin. All coordinators are welcome to join the coordinator group on the Westberg Institute Knowledge Sharing Platform in order to interact with other coordinators worldwide and also to access the resources stored in the group files.
For more information contact Dr. Sharon T. Hinton, Director, at shinton@spiritualcareassociation.org
These webinars can be purchased individually or as a series.
If purchasing individually:
CNE hours: Each module qualifies for 1.5 ANCC accredited nursing professional development contact hours (CNE) and Continuing Nursing Professional Development Contact Hours available on request.

Cost: $35 each for SCA Members; $45 each for non-SCA Members.
You will receive access to a recorded video, along with electronic materials.
If purchasing as a series:
CNE hours: The series qualifies for 12.0 ANCC accredited nursing professional development contact hours (CNE) Cost: $250 for SCA Members; $325 for non-SCA Member.
You will receive access to a recorded video, along with electronic materials.
After watching your corresponding module, you must complete the evaluation to receive a certificate, please
click here
.
CNE hours:
Each webinar qualifies for 1.5 Continuing Nursing Education Hours (CNE). You will receive a recorded video, along with electronic materials.
Spiritual Care Association Nursing Division is accredited as a provider of nursing continuing professional development by the American Nurses Credentialing Center's Commission on Accreditation.
Module 1:
Introduction to the Leadership and Coordination Series
This module introduces the participant to the specific roles of the professional as a leader of faith community nurses and/or health ministers. The material addresses the expectations of the coordinator as the supervisor, supporter, and sustainer of faith community nurse programs, whether as a network, a segment of a larger institution, or a leader of health ministers in a large faith community. It incorporates information for the coordinator on leadership skills, professional expectations, and staff support strategies.
Objectives:
Describe the eight core modules of the series.
List requirements to achieve a certificate of completion as a Westberg affiliated coordinator.
Define general terms related to leadership and coordination pest-practice.
Identify factors that impact leadership styles.
Module 2: Spiritual Leadership
This module assists the participant to distinguish multiple aspects of providing spiritual care to nurses practicing in diverse settings and faith traditions with the goal of promoting holistic health for faith community nurses as caregivers. Cultural competency, partnering with chaplains, clergy, other spiritual care providers and spiritual care organizations, along with spiritual assessment as part of the coordinators role to provide Intentional care of the spirit for faith community nurses is included.
Outcome:
By attending this webinar participants will be able to self-report an increased understanding and proficiency with spiritual care aspects of faith community/parish nurse spiritual care from a leadership perspective.
Module 3: Marketing and Promoting FCN Practice
This module assists the participant to select opportunities to promote FCN practice from a wide range of options applicable to both institutional and independent practice. Development of concise descriptions of practice, telling the story, and the use of social media and other options for coordinators working with public relations, marketing departments or independently is included. Emphasis is placed on promoting faith community nursing practice and recruiting registered nurses into the specialty practice.
Outcome:
At the conclusion of this webinar participants will self-report steps to integrate key principles of marketing into their FCN coordinator marketing plan.
Objectives:
Understand key principles of marketing communication.
Develop key components of a marketing plan.
Connect with social media platforms.
Module 4: Human Resource Management
This module assists the participant to follow best-practice standards related to aspects of human resource management for both paid and unpaid positions. Guidelines, standards and requirements of state nurse practice acts, Scope & Standards of practice, Nursing code of ethics or the international equivalent along with suggested policy and procedures are discussed. Emphasis is placed on orientation including boundaries and self-care strategies, communication including giving and receiving feedback, and conflict management from a servant leadership perspective. Documentation and recordkeeping is included as appropriate throughout the series with supplemental resources, guidelines and activities in Westberg's Knowledge Sharing Platform online files.
Outcome:
At the conclusion of this interactive webinar participants will self-report human resource management considerations to be integrated into their FCN leadership and coordination practice.
Objectives:
Discuss 2 important aspects of a servant leadership style.
Identify 3 reasons to know and practice the required guidelines and standards set forth by governing bodies of both nursing and faith community nursing to assure best practice standards.
List 5 essential elements to be considered for a productive human resource practice in an FCN coordinator program.
State 4 considerations for documenting and maintenance of records for an FCN coordinator.
Module 5: Growing and Sustaining the FCN Practice
This module assists the participant to further develop health ministry mission and vision at the coordinator level. Included is network development and sustainability strategies, choosing and establishing partnerships locally, nationally, and internationally, developing budgets and long-term plans including succession planning. Emphasis is placed on coordinator professional development, self-care, organizing live and technology-based meetings and retreats, guidelines for assisting FCNs to develop and grow and suggestions for overcoming challenges of time and organizational changes. Online resources include but are not limited to tools for quality assurance, outcome measurement, data collection, planning and program support.
Objectives:
List multiple strategies to promote personal and professional growth.
List 5 spiritual wisdom practices related to FCN leadership.
List 4 components to successful program sustainability.
Module 6: Relationships: Faith, Culture, and Geography
This interactive module explores the heart of faith community nursing practice by encouraging the participant to focus first inward at personal beliefs and viewpoints and then to consider aspects of culturally competent care, diverse faith traditions, cultures and tradition, faith community nursing practice and holistic health from a worldview. Also included is a look at hierarchal structure of religions and denominations in general and suggestions for supporting faith community nurses who are working across borders and with at-risk populations including refugees and the displaced.
Outcomes:
At the conclusion of the webinar participants will self-report at least one aspect of relationships related to faith, culture, and geography that they intend to integrate into their leadership practice.
Objectives:
Understand the importance and practice of cultural intelligence which encompasses culture competence.
Examine belief systems concerning healthcare of Buddhism, Catholicism, Christianity, Islam, and Judaism as related to FCN practice.
Discuss a recent multicultural study of spirituality/religiosity and personality traits of diverse faith traditions.
Understand spiritual self-reflection and its crucial benefit in FNC leadership.
Module 7: Functioning as an FCN Coordinator in Leadership and Management Role

This module assists the participant to compare various aspects of the role of a leader/manager/supervisor/coordinator related to faith community nursing practice. Included are assessment activities to discern management types and leadership preferences. Emphasis is placed on servant leadership development and competency in secular and sacred faith community nurse health ministry settings.
Objectives:
Discuss the characteristics of management vs. leadership.
Discuss 3 styles of leadership that relate to faith community nurse coordinators.
Explore how to develop personal strengths related to management and leadership as an FCN Coordinator.
Module 8:  Documentation
This interactive webinar focuses on the multiple aspects of documentation for FCN coordinators in both sacred and secular settings. Along with access to various templates, forms, and examples, this webinar discusses the documentation responsibilities of a FCN coordinator, various elements of documentation systems, methods for using quality improvement tools, and methods for utilizing documentation outcomes for reports, funding, and sustainability.