First Response Chaplaincy Training Manual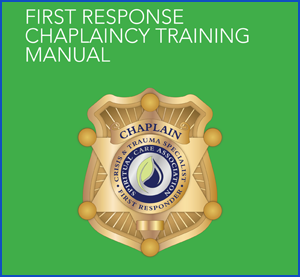 First responders provide care to persons in times of great distress, and many community first response teams have recognized the importance of spiritual care as the role of chaplains. However, not all chaplains working in first response settings are board certified or credentialed. As a result, there has been a vast difference in skills and knowledge across those working in this capacity. First response organizations have called for a more uniform knowledge base of those chaplains who do not hold board certification or credentialing.
As a resource for those who currently provide spiritual care as members of a first response team, or who desire to begin a chaplaincy component within their team, the Spiritual Care Association has developed a comprehensive training manual for use in any setting or team. Drawing on national expertise in the fields of first response, emergency, and disaster chaplaincy and volunteer management, this manual is a resource to train individuals in a number of key areas, including:
Working with diverse and vulnerable populations
Communication skills
Psychological First Aid
Spiritual screening and assessment
Dying, death, and grief
Emergency and disaster incidents
First response specific issues, including:

Structure of systems
Line of duty injury and death
Caring for the first response team
Burnout, compassion fatigue, and resilience
The manual includes a range of teaching tools and learning activities to ensure that all learning styles are accommodated. It can be used with large or small groups to enhance the development of skills and the provision of first response spiritual care.
Reproduction of this manual in any way, whether in part or in whole, is not permitted. For bulk purchases, please contact Cindy Melero at cmelero@healthcarechaplaincy.org.
Sales price $65.00
Shipping Rates:
NORTH AMERICA
For 5 or less issues, free shipping.
Between 6 and 8, $5.00 for shipping.
Between 9 and 12, $13.60 for shipping.
INTERNATIONAL
For 2 or less, $10.00 for shipping.